PiSpace Alpha Update: 2 Player Mode & Improved AI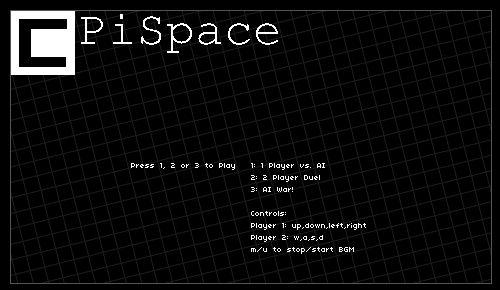 It's been a busy week and lots of fun work has been completed on PiSpace. I have updated the version online and released the code on GitHub Please feel free to fork the code and tweak what you like. The published code includes assets and code entities. The Impact Engine is a licensed engine, so if you have a license then just place the code in the standard impact root directory. Also, I am on PointOfImpact which is a great source for the Impact Engine.
The new features for v0.2:
Title Screen
3 game play modes
2 Player mode
AI War! mode
Much improved AI
Refined physics handling
mute/unmute music
Some under the hood changes include better commenting, more efficient XForm updates & some sound tweaks.
Upcoming features:
Particle effects
Pause menu
EndGame
More AI tweaks
Better page integration
"Tunneling" graphical effects
Mobile controls & compatibility
and more…
Enjoy!